Posts: 6
Joined: Thu Apr 19, 2007 4:33 pm
Location: El Mirage AZ
I was able to enjoy some very nice bird work in Idaho and NODAK from some friends GSPs....... Thought I would share a few pics here.
Ellie is 2 now. Big motor in the CRP and a great nose. Nice dog.
I was able to shoot a true double on sharpies here.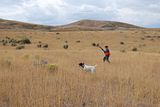 This is Ace. 10 months - rock solid point and to hand here. He is still a pup but boy did we have fun. One day he would be dead honest and the next you could see him shifting gears to bump and chase.
This is Ace's sister. Jesse. You know how some dogs just mature faster or get it sooner? She held these sharpies for a long time here. I can't wait to hunt again over her next year........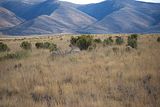 Steve Rutkowski
AKA "Chasin' Mearns"
520-906-8270
---
Return to General Discussion-Hunting
Who is online
Users browsing this forum: No registered users and 1 guest